Bali – the land of temples, beaches, and exotic jungles. Whether you're seeking adventure or relaxation, Bali offers something for everyone. Here are some of the best places to visit in Bali that you absolutely cannot miss:
50 Best Places to Visit in Bali
First up on our list is the Tegalalang Rice Terrace in Ubud. This stunning landscape is a must-see for any nature lover. Marvel at the intricate irrigation system and stroll through the lush green rice fields.
If you're looking for a little adventure, hike up Mount Batur for breathtaking views of the sunrise over the island. Make sure to bring warm clothes because it gets chilly at the top.
For a more relaxed day, visit the Elephant Safari Park in Ubud. Here, you can ride and interact with elephants in a natural and ethical environment.
One of the most Instagram-worthy locations in Bali is the Handara Gate. This iconic structure is located in the Bedugul area and is a popular spot for tourists to snap the perfect photo.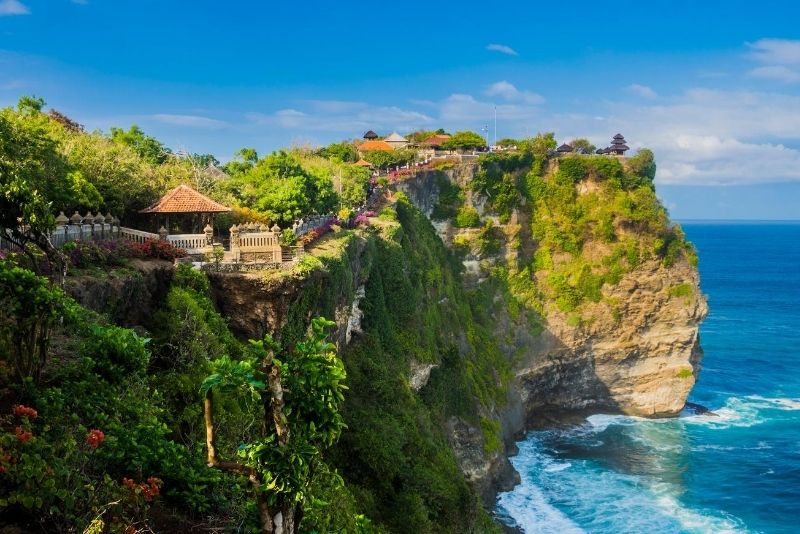 Next on the list is the Uluwatu Temple – a beautiful temple situated on a cliff above the ocean. Watch the stunning sunset while enjoying a traditional Kecak dance performance.
Another must-see temple is the Tanah Lot Temple. This temple is surrounded by water and is one of the most photographed places in Bali.
Exploring the Beaches of Bali
If you're a beach lover, Bali will not disappoint. One of the most popular beaches on the island is Kuta Beach. This beach offers a vibrant nightlife scene, water sports activities, and plenty of spots for sunbathing.
For a more secluded and serene beach experience, head to Nusa Dua Beach. This beach is perfect for relaxing, swimming, and snorkeling.
If you want to surf, make your way to Uluwatu Beach. This beach is known for its big waves and is a popular spot for surfers around the world.
Indulging in Balinese Culture
One of the best ways to experience Balinese culture is by visiting a traditional market. The Ubud Art Market is a popular destination for tourists and locals alike to shop for handmade crafts, clothing, and home goods.
For a more immersive cultural experience, attend a traditional Balinese dance performance. These performances tell stories through intricate choreography and captivating costumes.
Experience true relaxation and rejuvenation with a Balinese spa treatment. From massages to facials, Balinese spa treatments incorporate natural ingredients and ancient techniques to leave you feeling refreshed.
Getting in Touch with Nature
For an unforgettable nature experience, swim with manta rays in Nusa Penida. These gentle giants will glide past you in the crystal-clear water.
For a more extreme adventure, dive with sharks in Gili Islands. This adrenaline-filled activity will get your heart racing as you come face to face with these magnificent creatures.
Exploring Bali's Cuisine
No trip to Bali is complete without trying some traditional Balinese cuisine. Nasi Goreng, Satay, and Gado-Gado are just a few of the delicious dishes you must try.
For a unique dining experience, visit a floating restaurant on Lake Batur. Enjoy traditional Balinese dishes while taking in the stunning views of the surrounding nature.
How to Get Around Bali
There are many ways to get around Bali, depending on your preferences and budget. The most common mode of transportation is motorbike rental, which can cost as little as $5 per day.
If you're not comfortable with driving, you can also hire a private driver to take you around the island for a flat rate.
Taxis and ride-sharing services are also available, but be sure to negotiate the fare before getting in to avoid getting overcharged.
Final Thoughts
Bali is undoubtedly one of the most beautiful and culturally-rich places in the world. From stunning landscapes to delicious food, Bali has something for every type of traveler. Make sure to visit all of these amazing places on your next trip to Bali.