If you're looking for the perfect blend of adventure, relaxation, and culture, look no further than Uluwatu, Bali. With its stunning beaches, vibrant nightlife, and rich cultural experiences, Uluwatu has something for everyone. Here are some of the best things to do and see in this tropical paradise!
Relax on the Beach
No trip to Uluwatu would be complete without a visit to one of its many beautiful beaches. Whether you're looking to catch some waves or just soak up the sun, the beaches here are unparalleled in their beauty and diversity. Some of the most popular options include Padang Padang Beach and Bingin Beach, both of which are known for their crystal-clear waters and excellent surfing conditions.
Explore Uluwatu Temple
One of the most iconic landmarks in Bali, Uluwatu Temple is an absolute must-see. Perched on the edge of a cliff overlooking the ocean, this ancient Hindu temple is both a testament to Bali's rich cultural heritage and a breathtaking sight in its own right. Be sure to catch the nightly Kecak fire dance, a dramatic and mesmerizing performance that tells the story of the Ramayana through music and dance.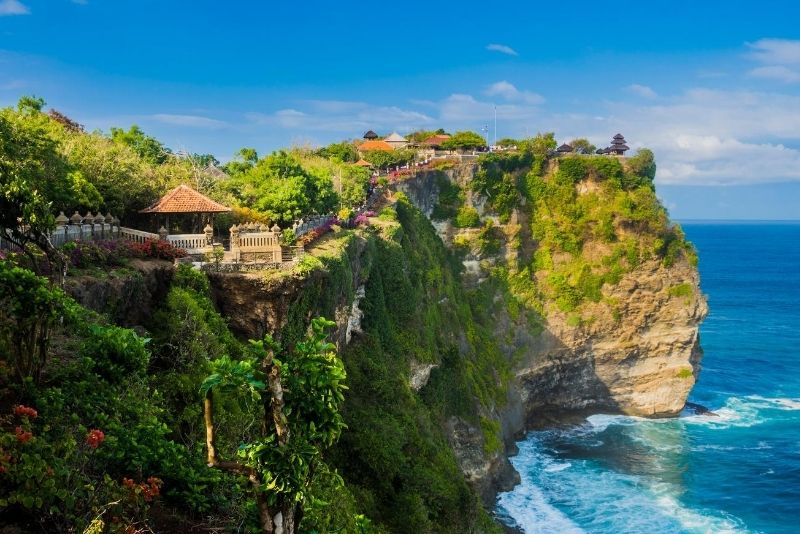 Experience Authentic Balinese Cuisine
No visit to Bali would be complete without indulging in its famous cuisine. From traditional dishes like nasi goreng and satay to more modern fusion cuisine, there is no shortage of delicious options in Uluwatu. Some of the most popular restaurants in the area include Suka Espresso, a cozy cafe serving up delicious coffee and brunch fare, and Warung Damar, a local favorite for its authentic Balinese dishes and laid-back atmosphere.
Surf the Waves
Uluwatu is known around the world for its incredible surfing conditions, and there are plenty of opportunities to catch some waves no matter your skill level. Some of the best spots for surfing include Dreamland Beach and Impossibles Beach, both of which offer world-class conditions and stunning views. And if you're new to surfing, don't worry – there are plenty of surf schools and instructors in the area to help you get started.
Take in the Nightlife
When the sun goes down, Uluwatu comes alive with a vibrant and exciting nightlife scene. Some of the most popular spots for drinks, dancing, and live music include Single Fin, a bar and restaurant perched on the cliff overlooking the ocean, and Omnia Dayclub Bali, a luxurious beach club with stunning views and world-class DJs.
Soak Up the Culture
Bali is known for its rich cultural heritage, and Uluwatu is no exception. Take some time to explore the area's many temples and historical sites, such as Pura Luhur Uluwatu and Pura Goa Lawah. And don't miss the chance to attend one of the many traditional ceremonies and festivals that take place throughout the year – these colorful and vibrant events are a feast for the senses and a true window into Balinese culture.
Get Active in Nature
Uluwatu is also home to a wide range of outdoor activities and adventures, from hiking and biking to snorkeling and scuba diving. Take a hike through the lush Bukit Peninsula or explore the coral reefs and underwater flora and fauna at Blue Lagoon Beach. And if you're feeling truly adventurous, try your hand at cliff jumping or paragliding for an adrenaline rush you won't soon forget.
Final Thoughts
Uluwatu is a truly magical destination that offers something for everyone. Whether you're looking to relax on the beach, explore ancient temples, or indulge in delicious cuisine, this tropical paradise is sure to leave you feeling refreshed, revitalized, and inspired. Book your trip today and experience all the wonders of Uluwatu for yourself!